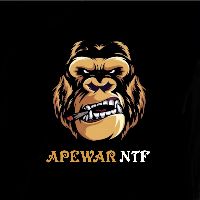 What is APEWARNFT?
🐵🐵🐵WELCOME🐵🐵🐵
💥APEWAR NFT ($APENFT)💥
🔥Fairlaunch at August 20, 2021. 12:00 [UTC] ‼️
https://countingdownto.com/?c=3773858
💵Automatically receive BNB or any other #bsc tokens of your choice for holding APEWAR NFT 💵
next we will create a project with the name APEWAR NFT and the token symbol is $APENFT if you all want to be able to make this project grow then join the group and wait for further information
💥Tokenomic ‼️
♦️Total supply : 100,000,000
♦️65% pancakeswap and initial liquid 7 BNB
♦️30% LPs burn
♦️5% marketing & dev
♦️Lock Lp 1 year
This project will introduce us to the battle of an ape who wants to take revenge against his opponent, because his family was completely attacked by his opponent and he is left alone, and will fight until this ape can kill all his opponents.
💥Use Links ‼️
🖥️ : https://t.me/apewarNFT
🕊️ : https://twitter.com/APEWARNFT
🌐 : https://apewar.fun/
Timeline
| | |
| --- | --- |
| Launched | 20 Aug 2021 |
| Added | 18 Aug 2021 |
| | | Launch | | Market Cap | Badges | Votes |
| --- | --- | --- | --- | --- | --- | --- |
| | | in 2 months | | | | |
| | | 26 days | | | | |
| | | in 2 days | | | | |
| | | 4 months | | $162,008 | | |
| | | in 5 days | | | | |
| | | 24 days | | - | | |
| | | 29 days | | | | |
| | | in 1 day | | - | | |
| | | 4 days | | | | |
| | | 25 days | | $69,288 | | |
| | | 16 days | | - | | |
| | | 6 days | | - | | |
| | | in 15 days | | No Contract | | |
| | | 12 days | | | | |
| | | today | | | | |