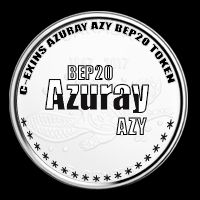 What is Azuray?
What Is AZURAY (AZY)?
AZURAY (AZY) is a decentralized Binance Smart Contract baseded blockchain system Created/ Owned by the C-EXINS Blockchain Department. Originally AZY tokens were BEP-20 based tokens deployed on their own BSC Mainnet network.
The AZURAY software supports smart contracts, and decentralized applications aka dApps. The cryptocurrency platform uses a transaction model similar to Bitcoin (BTC), namely UTXO. Transactions take place in a public ledger, where users can track the history of operations.
To learn more about this project, check out our deep dive of AZURAY.
. AZURAY AZY on Bitcointalk at https://bitcointalk.org/index.php?topic=5399655
Who Are the Founders of AZURAY?
AZURAY AZY was founded by C-EXINS blockchain department, Odeonus.
Timeline
| | |
| --- | --- |
| Launched | 22 May 2022 |
| Added | 29 Jul 2022 |
| | | Launch | | Market Cap | Badges | Votes |
| --- | --- | --- | --- | --- | --- | --- |
| | | in 2 months | | | | |
| | | 7 months | | | | |
| | | today | | - | | |
| | | 4 months | | $209,877 | | |
| | | 6 days | | | | |
| | | 1 day ago | | No Contract | | |
| | | 3 days | | $1,106 | | |
| | | in 6 days | | | | |
| | | 25 days | | - | | |
| | | in 4 days | | | | |
| | | today | | | | |
| | | in 3 months | | No Contract | | |
| | | in 5 days | | | | |