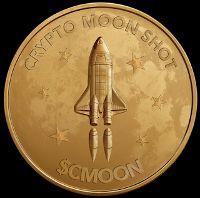 What is CryptoMoonShot?
CryptoMoonShot is a community, culture, and movement all supported by an open-source peer-to-peer digital memecoin: $CMOON. After experiencing the re-emergence of "memecoin season," respected cryptocurrency advocates around the BNB Chain (Binance Smart Chain) have come together to found a community on the principles of decentralization, equality, and fair opportunity. A memecoin for the people, by the people.
$CMOON features not only the fastest-growing organic community on the BSC, but also a smart contract with protections and reflections for the community built right in through the direct-to-liquidity function from token taxes, as well as the reflection function that distributes taxes back to holders.
Timeline
| | |
| --- | --- |
| Launched | 29 May 2023 |
| Added | 28 May 2023 |