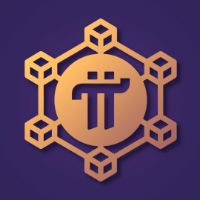 What is Pi Chain?
❖ PiChain is an EVM-compatible blockchain that aims to complement the original Pi Network. PiChain seeks to bring scalability, security, robustness, and utility to Pi Network. In short, PiChain doesn't compete with Pi. Instead, it aims to harmonize with the original crypto. It's important to note that the PiChain project is a community-first blockchain that aims to empower Pi holders and enthusiasts.
❖ PiChain will ultimately provide Pi users with access to blockchain games, NFTs, and the ever-growing DeFi ecosystem, one in which they can showcase their favorite Pi for a wide range of applications.
✅ Community-first blockchain
✅ Fully Doxxed Team
✅ No team Tokens
✅ Partnered with big names like Block0
✅ All-star team to include past experiences with Amazon and Microsoft
✅ Dev's last project hit 70M Marketcap
✅ Born to create a upport system for Pi Network with 35 million users
✅ Many upcoming quests and events
🔸 Join the movement!
Get your whitelist spot here:
Timeline
| | |
| --- | --- |
| Launched | 09 Feb 2023 |
| Added | 21 Jan 2023 |