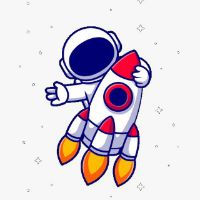 What is Astronout token?
👋 HELLO THERE!! 👋
🚀🚀🚀 WELCOME TO ASTROUNAUT TOKEN! 🚀🚀🚀
🔥The Next Sensational Decentralized DApp!🔥
🔹About🔹
Astrounaut Token is a community project that aims to provide decentralized applications and solutions.
DApp can be access with BSC Testnet and we will use Mainnet after launch.
🚀 We will officially presale on Monday
5th September 2022 AT 14.00 UTC
🔹Projects🔹
🔥🔥🔥 REWARD GAMES!!! 🔥🔥🔥
❓How to win the reward?❓
💰Hold as much and as longer to increase the chance to win the Reward!💰
And soon, we will release our next project such as Lottery, Pottery, Prediction, etc.
So, Lets Join Us! Build Huge Community, and CLAIM YOUR REWARD!!
💬 Telegram : https://t.me/astroutoken
🌐 Website : https://astrou.vercel.app
DON'T FORGET JOIN OUR TESTNET AND WIN HUGE PRIZE❗❗
Timeline
| | |
| --- | --- |
| Launched | 05 Sep 2022 |
| Added | 05 Sep 2022 |
| | | Launch | | Market Cap | Badges | Votes |
| --- | --- | --- | --- | --- | --- | --- |
| | | in 2 months | | | | |
| | | 26 days | | | | |
| | | in 2 days | | | | |
| | | 4 months | | $162,008 | | |
| | | in 5 days | | | | |
| | | 24 days | | - | | |
| | | 29 days | | | | |
| | | in 1 day | | - | | |
| | | 4 days | | | | |
| | | 25 days | | $69,288 | | |
| | | 16 days | | - | | |
| | | 6 days | | - | | |
| | | in 15 days | | No Contract | | |
| | | 12 days | | | | |
| | | today | | | | |