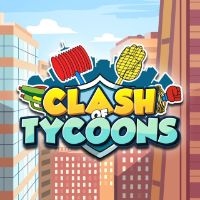 What is Clash of Tycoons?
Welcome to Clash of tycoons!!
Clash of Tycoons armies is ready to fire up the journey towards the peak of the moon!
Desperately looking for 💯 legit project with great potential? We bring you the newest crypto token that will uplift your hopes to highest level!! LAUNCHING SOON!!!💥🦾
🚀Clash of Tycoons🕴️🕴️
-🥒🔫Meme War🔫🥒-
a newly-built revolutionary token aiming for a great mission and a community driven project that will create a massive impact to trading world!
🌟Tycoonomics
🪙Total Supply: 300,000,000
📊Total Tax: 5%
USECASE: NFT GAMES
NFT marketplace🔥
Creating massive steps towards unimaginable success !!!!🧨🧨
Join our Social Media for more updates.
TELEGRAM NEWS & UPDATE CHANNEL:
https://t.me/COTCHANNEL
OFFICIAL TELEGRAM:
https://t.me/clashoftycoonsofficial
DISCORD:
https://discord.gg/wyGkzwgp
TWITTER:
https://twitter.com/ClashoftycoonsO?s=09
WEBSITE:
https://clashoftycoons.com/
FACEBOOK:
https://www.facebook.com/CLASH-of-Tycoons-108323311604939/
Timeline
| | |
| --- | --- |
| Launched | 13 Oct 2021 |
| Added | 12 Oct 2021 |
| | | Launch | | Market Cap | Badges | Votes |
| --- | --- | --- | --- | --- | --- | --- |
| | | in 2 months | | | | |
| | | in 1 day | | | | |
| | | 4 months | | $189,956 | | |
| | | 1 day ago | | | | |
| | | 26 days | | | | |
| | | 6 days | | - | | |
| | | in 2 days | | | | |
| | | in 8 days | | - | | |
| | | in 1 day | | | | |
| | | in 3 days | | - | | |
| | | 3 years | | - | | |
| | | 22 days | | $69,288 | | |
| | | 7 days | | - | | |
| | | 3 days | | | | |
| | | today | | - | | |