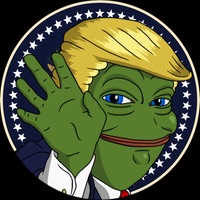 What is TrumPepe CEO?
Trumpepe CEO, the ever trending token on BSC! 📣
We combined Trump, PEPE and CEO for the max attention out there!
Enjoy passive income with 5% juicy USDT Rewards just for Holding! 💰
Lean back and hold on! We will take over the entire Space while ensuring fun and revenues for everyone involved!
* 5% USDT Rewards
* Contract renounce after Launch
* Chainlink VRF Plinko
* Dezentralized RNG Lottery
* Liquidity locked for 6 month
Timeline
| | |
| --- | --- |
| Launched | 29 Apr 2023 |
| Added | 29 Apr 2023 |
| | | Launch | | Market Cap | Badges | Votes |
| --- | --- | --- | --- | --- | --- | --- |
| | | in 2 months | | | | |
| | | 2 days | | - | | |
| | | 7 months | | | | |
| | | 4 months | | $210,010 | | |
| | | in 1 day | | | | |
| | | 7 days | | | | |
| | | 3 days | | No Contract | | |
| | | 4 days | | $1,010 | | |
| | | in 5 days | | | | |
| | | in 11 days | | - | | |
| | | in 3 days | | | | |
| | | in 3 days | | | | |
| | | in 1 day | | - | | |
| | | in 4 days | | | | |
| | | in 3 days | | | | |
| | | today | | | | |