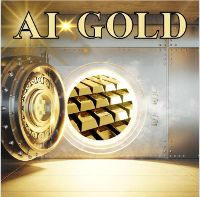 What is AI GOLD?
The AI Gold (AIG) token is an innovative cryptocurrency designed to support and fund a gold recovery project in the gold rich waters of the Bering Sea. Yes, this is a real mining project! This groundbreaking token offers investors a unique opportunity to participate in the project's profits while benefiting from the stability and value of physical gold. Please see the following message from AI GOLD's CEO:
Message from the CEO:
I hope this message finds you well and filled with excitement as we unveil the latest developments at AI Gold. As the CEO, I am excited to share some incredible news that will enhance your experience and solidify our commitment to rewarding our valued holders in gold.
First and foremost, I am delighted to announce that we have implemented a groundbreaking mechanism that rewards our holders in real gold. For every buy and sell transaction, AI Gold will automatically allocate 5 percent from each side (for a total of 10 percent of the transaction amount) in PAXG gold, directly into the wallets of our loyal holders. This unique feature sets us apart from other cryptocurrencies and ensures that you, as a participant, can reap the benefits of holding AI Gold tokens.
But that's not all! We are taking our commitment to rewarding our community even further with the introduction of our exclusive NFT collection: Golden Mining Permits. These permits grant you access to a multitude of exciting benefits. By holding our Golden Mining Permits, you become eligible to receive a generous share of the 25 percent of our gold profits at the end of each season. Imagine being able to earn a portion of our gold profits simply by holding this prestigious NFT!
Furthermore, as a token of our appreciation, we will be conducting random airdrops exclusively for Golden Mining Permit holders. These airdrops will serve as a token of gratitude for your continued support and will include various exciting rewards and surprises. We want to ensure that every member of our community feels valued and receives opportunities to benefit from our success.
At AI Gold, we are committed to revolutionizing the cryptocurrency landscape by intertwining the best aspects of digital assets with the timeless value of gold. This innovative approach, creates a rewarding ecosystem where participants can share and prosper by receiving AIG buy/sale rewards and a percentage of the gold mining profits from the purchased Mining Permits.
Thank you for being an essential part of the AI Gold community. Stay tuned for more exciting updates and opportunities to come.
Regards,
Forest
CEO, AI Gold
Timeline
| | |
| --- | --- |
| Launched | 20 Jul 2023 |
| Added | 16 Jun 2023 |