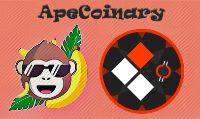 What is ApeCoinary?
🦍 ApeCoinary 🦍
COINARY ($CYT) is what all the cool kids are buying recently.
The first few CYT rewards tokens flopped. We're doing it right.
🦍 ApeCoinary 🦍
Tokenomics:
14% CYT reflection
3% Auto-LP
2% Marketing fee
Here's what is in the works and will be prepared for launch:
1) Website w/ reward tracker
2) 2 CMS trending posts
3) Pins in multiple big TG groups
4) Full admin team prepped
5) VC before launch, dev there to answer all questions
6) Shill leaders ready to go at launch
7) More to come post-launch!
Timeline
| | |
| --- | --- |
| Launched | 09 Aug 2021 |
| Added | 10 Aug 2021 |