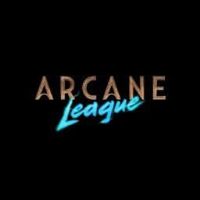 Arcane League
$ARCANELEAGUE
What is Arcane League?
🏆 ArcaneLeague 🏆
The first project based on the Worldwide Sensation and Number 1 original Netflix series -
"League of Legends : Arcane".
Do you want to make a huge profit from the new most popular series around the globe? If so, you're in the right place ! 👍
⚔️ TOKENOMICS ⚔️
TO BUY/SELL :
4% MARKETING TO MAKE US KNOWN ALL AROUND THE WORLD
3% LIQUIDITY FOR A BETTER STABILITY
1% DEVELOPMENT TO DELIVER OUR FIRST NFT VIDEOGAME AND A LOT OF OTHER COOL THINGS !
So What's Arcane League All About ? 🤔
First, you'll gain access to our expansive NFT gallery !
Your NFT(s), will be usable in OUR PLAY-TO-EARN BATTLE CARDS GAME which is currently in development ! 🕹
Meanwhile, a large and effective marketing campaign will begin from the moment the token goes live to bring plenty of excited and passionate new investors ! 📡
• Big marketing packages (Influencers, Youtubers, Financial Press articles),
• Big medias
• Big listings
• Gaming Partnerships
& More to come...
We commit to working tirelessly to reach and obtain a Multi Billions Dollars MarketCap ! 💥
Timeline
| | |
| --- | --- |
| Launched | 20 Nov 2021 |
| Added | 18 Nov 2021 |
| | | Launch | | Market Cap | Badges | Votes |
| --- | --- | --- | --- | --- | --- | --- |
| | | in 2 months | | | | |
| | | today | | - | | |
| | | 4 months | | $206,344 | | |
| | | in 1 day | | | | |
| | | 4 days | | - | | |
| | | 5 days | | $1,141 | | |
| | | in 4 days | | | | |
| | | in 10 days | | - | | |
| | | in 2 days | | | | |
| | | in 2 days | | | | |
| | | in 1 day | | - | | |
| | | 3 years | | - | | |
| | | in 3 days | | | | |
| | | in 2 days | | | | |
| | | 5 days | | - | | |