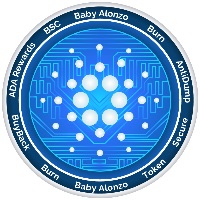 What is Baby Alonzo?
BabyAlonzo is a deflationary token designed to become more valuable over time. The community receives more Ada directly to their wallets, every hour, from the tax generated by each transaction.
The contract employs a static rewards system — 15% of every transaction is split in three: – 10% BabyAlonzo is redistributed to holders‌ – 2% tokens is used to fuel the liquidity pool exchange growth – 3% BabyAlonzo is allocated to the marketing wallet.
Max Supply: 100,000,000,000 BabyAlonzo
~94% are available for the trading on Pancakeswap
~3% are dedicated to the team to ensure sustainable and rapid innovation
~3% are reserverved for future airdrop campaign
Timeline
| | |
| --- | --- |
| Launched | 22 Aug 2021 |
| Added | 19 Aug 2021 |