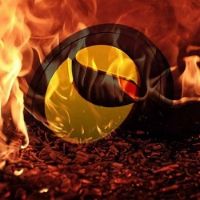 What is Burn Luna?
Burn Luna 🔥
WHITELIST PRESALE LIVE!
🔥 Burn Luna is an to the recent Events and record high destroying of wealth inspired Meme-Token! Earn 5% stable $BUSD passive rewards while Luna burns instead of unstable $UST!
🔥 5% TOKEN BURN EACH 10K MCAP MILESTONE! FROM 100k MCAP STARTING TO 1% TOKEN BURNS! 🔥
#Terra #Luna #Burn #Stable #Unstable #TerraLuna #BUSD
🚨With Burn Luna we want to achieve that the Crashed Luna Token have a restart. If Luna wants to achieve their old goals they must burn their tokens. With our system everytime we reach 10k mcap more 5% from the total supply will be burned. Burn Luna is a Meme-Token on the Binance Smart Chain that generates passive income for his holders by providing 5% Rewards in $BUSD on every transaction (buy/sell).
📱 Telegram: https://t.me/burnluna
🎯 Roadmap:
Goal 1: Official Pancake Swap Launch - Design for Website/Social Media - Social Media Launch - Website Launch - PancakeSwap Logo - Influencer Marketing - Daily AMAs
Goal 2: Coin Gecko Listing - CMC Listing - Website Improvements - NFT Project Reveal - Twitter Raids, Shilling Competition
Goal 3: Cooperations with other Projects - Release of Merch - Large influencer marketing push - Memecontest for the Community
Goal 4: Audit - CEX Listening - Explore gaming possibilities -Increase marketing - Release NFT market place - NFT collection - NFT game
🧾 Tokenomics: - 1% Liquidity - 9% Marketing - 5% $BUSD Rewards
For Contract and Details join please our Telegram!
📱 TG: https://t.me/burnluna
Timeline
| | |
| --- | --- |
| Launched | 16 May 2022 |
| Added | 14 May 2022 |
| | | Launch | | Market Cap | Badges | Votes |
| --- | --- | --- | --- | --- | --- | --- |
| | | today | | | | |
| | | 4 months | | $178,524 | | |
| | | 2 days | | | | |
| | | in 8 days | | | | |
| | | in 5 days | | | | |
| | | 26 days | | | | |
| | | 6 days | | - | | |
| | | in 2 days | | | | |
| | | in 8 days | | - | | |
| | | today | | | | |
| | | in 3 days | | - | | |
| | | 3 years | | - | | |
| | | 22 days | | $69,288 | | |
| | | 7 days | | - | | |
| | | 1 day ago | | - | | |
| | | in 30 days | | - | | |