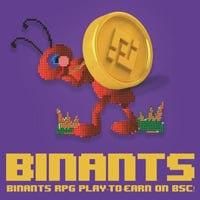 What is Binants?
🐜 BinAnts
⚙️ Hardworking Binance Ants are building the AntHill! RPG Play-to-Earn on Binance Smart Chain!
👑 We are building the ant-like eusocial DAO on Binance Smart Chain with the main aim to build new innovative projects in Queen's honour!
🚨 Fair Launch on Feb 25, 16:00 UTC
🫂 BinAnts & DAO
We aim to build a large and powerful community around our Anthill, and we can't accomplish this without the collaboration of long-present communities!
🔥 Each holder:
- becomes a member of the Anthill DAO and receives a stake in it
- chooses his role: designer, developer, promoter, manager, investor, etc.
- participates in the development of the new projects by the Anthill DAO members
🔥 While the core team:
- creates and supports the infrastructure for the Anthill DAO development
- assists in the holder's projects development by allocating analytical, marketing and dev resources
- act as an Angel Investor by allocating collected funds into holder's' projects at the earliest stages
🏆 Roadmap
- $BNANT Token launch and airdrops
- 3333 BinAnts will be available for the Flash mint on our website. Flash Mint sessions will start at a random date & time and last 5 minutes each. During each 5 min flash mint session, the minters of a class with the fewest purchases will receive 100% money back.
- Immediately after the initial sale, BinAnts will be available on the largest BSC NFT marketplaces. A portion of funds collected during the mint will be allocated to the floor buy-back and the stimulation of secondary sales.
- 300 NFTs will be given away to the community through airdrops & contests. The list of prizes includes BinAnts + NFTs from top-tier partners.
- NFT Staking with our Sugar Staking Pool. Once the staking platform is launched, holders will be able to stake their NFTs and earn $BNANT Tokens consistently
- The AntHill establishment! We are going to create the ant-like eusocial DAO on Binance Smart Chain with the main aim to build new outstanding projects in Queen's honour! Holders will choose their roles and launch the future BSC unicorns with the help of the Core Team.
- Multi-chain Ants! The Anthill will grow far beyond the BSC network and spread to other networks, such as Solana, Cardano, Ethereum, etc. Our goal is for multi-chain Ants to unite and develop the NFT and crypto space altogether!
💰 Tokenomics
- Token Symbol $BNANT
- Total Supply = 1 000 000 000 $BNANT Tokens
- 80% -> Liquidity Pool
- 10% -> NFT-staking through Sugar Finance
- 5% -> Core Team rewards
- 5% -> Marketing, Airdrops and other sources
- 5% BNB Reflections
ℹ️ How to get $BNANT Tokens?
- Holders airdrops & contests Rewards from the Anthill projects BinAnts NFT staking
- There will be numerous ways to claim your $BNANT Tokens. You can simply hold your BinAnts NFTs, or be an active community member and earn it from regular contests. https://imgur.com/a/lfmidMZ
Social Links:
🌐 Website: https://binants.app
💬 Telegram: https://t.me/binants
📢 Twitter: https://twitter.com/binantsbsc
Timeline
| | |
| --- | --- |
| Launched | 28 Feb 2022 |
| Added | 27 Feb 2022 |
| | | Launch | | Market Cap | Badges | Votes |
| --- | --- | --- | --- | --- | --- | --- |
| | | in 2 months | | | | |
| | | 4 months | | $179,361 | | |
| | | in 3 days | | | | |
| | | 4 days | | $1,639 | | |
| | | in 6 days | | | | |
| | | 7 days | | - | | |
| | | 23 days | | - | | |
| | | 28 days | | | | |
| | | in 1 day | | - | | |
| | | in 2 days | | - | | |
| | | 10 days | | | | |
| | | 3 days | | | | |
| | | 24 days | | $69,288 | | |
| | | 3 days | | - | | |
| | | 1 month | | | | |
| | | 15 days | | - | | |
| | | 5 days | | - | | |