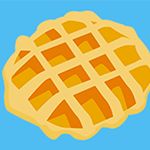 What is Baked Wafels?
What is Baked Wafels?
Baked Wafels is a fun spin on the Token Miner meta. It's a simple smart contract which acts as a BNB reward pool, returning 8%* of your BNB in the pool on a daily basis, every day as long as there is still BNB in the reward pool! Users can choose to eat their beans (take their BNB rewards) or re-bake their beans (compound earned BNB rewards) as they accumulate.
Just bake your Wafels, have fun and enjoy your Wafel rewards as they bake!
The Contract
The BNB Miner contract is verified, open source, immutable, trustworthy and is visible on www.bscscan.com
Timeline
| | |
| --- | --- |
| Launched | 14 Apr 2022 |
| Added | 14 Apr 2022 |
| | | Launch | | Market Cap | Badges | Votes |
| --- | --- | --- | --- | --- | --- | --- |
| | | in 2 months | | | | |
| | | in 1 day | | | | |
| | | 4 months | | $193,151 | | |
| | | 1 day ago | | | | |
| | | 25 days | | | | |
| | | 5 days | | - | | |
| | | in 3 days | | | | |
| | | in 9 days | | - | | |
| | | in 1 day | | | | |
| | | 3 years | | - | | |
| | | 1 day ago | | | | |
| | | 21 days | | $69,288 | | |
| | | 6 days | | - | | |
| | | 2 days | | | | |