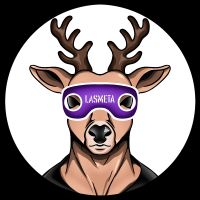 Deer Club Exclusive PASS "DCE PASS" NFT
$DCEPASS
What is Deer Club Exclusive PASS "DCE PASS" NFT?
The Deer Club Exclusive PASS, or DCE PASS, is a collection available exclusively on the LasMeta platform. With only 700 pieces to be minted, this limited edition offering is set to be highly coveted by collectors. Scheduled for release in the first quarter of 2023, the DCE PASS is sure to be a must-have for any serious collector.
Some Technical Specifications
♠ Chain: Ethereum Network
♠ Total Supply: 700
♠ Standard: ERC-721A
♠ Category: Utility, Ticketing, Royalty
♠ Payment Method: ETH
♠ Storage: IPFS
♠ Mint Date: TBA
♠ WL Mint Price: 0,08 ETH
♠ Public Sale Mint Price: 0,095 ETH
♠ Service Included: Buy, Sell, Mint, YIELD
♠ Integration: OS
♠ WL: 200 WL SPOT /
♠ WL Sale: 1 wallet max 3 qty can mint
♠ Public Sale: FCFS / no limit to mint
♠ Traits: Tier 1 - Tier 2 - Tier 3
Advantages of DCE PASS
♠ Extra Token Airdrop
Holders of $LASM tokens at ICO/IDO launches will receive $LASM tokens as a reward via an airdrop of 3% of the amount they bought if they are DCE Pass holders!
Each additional DCE Pass increases the airdrop amount by 0.5%
♠ Special Staking Bonus
DCE Pass holders are rewarded with 3% more annual staking interest on their $LASM token stakes. Additional each DCE PASS card adds + 0,75% Till 10 pieces of DCE. After 10 DCE Pass each one adds +0,5% of staking bonus.
♠ YIELD
DCE Pass holders are rewarded with 100 $LASM tokens monthly Yield without lock.
♠ Custom Looks
Special Name Tag for DCE Pass holders in game.
♠ Reward Pool Share
DCE Pass Holders share reward pool in the game
♠ Opportunity to meet the most famous poker players
https://docs.lasmeta.io/chemistry-of-lasmeta/sale-phases-of-assets/nft-sales/deer-club-exclusive-pass
How the "Reward Pool Share" works?
5% of the free poker chips distributed every hour on the LasMeta poker gaming metaverse are accumulated in a reward pool and distributed to 700 DCE Pass holders per hour. In order for users to claim their rewards, they must log in to the game every hour to claim their rewards.
Unclaimed poker chips are converted to $LASM tokens and are burnt from the maximum token supply.
More Detail;
https://docs.lasmeta.io/chemistry-of-lasmeta/sale-phases-of-assets/nft-sales/deer-club-exclusive-pass
Timeline
| | |
| --- | --- |
| Launched | 27 Feb 2023 |
| Added | 05 Feb 2023 |