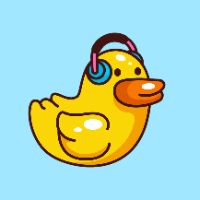 What is Duck Verse?
Welcome to Duck Verse 🦆
The Duck Verse Token is an BEP 20 token with a dynamic taxation and dividens that will be fully controlled by the community. The community can vote to raise or lower the taxation and dividends based on the market sentiment, pool goals or other events.
This token holders will shape the future of the Duck Universe by signaling their support for the improvement ecosystem and directing the use of the community game design.
Token Supply: 100,000,000,000
Tokenomics:
- 5% Reflection
- 3% Liquidity
- 2% Marketing Wallet
Distribution:
- 50% Burn On Launch
- 35% Ecosystem/ Incentives/ Staking
- 10% Liquidity
- 5% Team
Website:
https://duckverse.finance
Telegram:
https://t.me/duckversetoken
Twitter:
https://twitter.com/duckversetoken
Timeline
| | |
| --- | --- |
| Launched | 10 Feb 2022 |
| Added | 04 Feb 2022 |