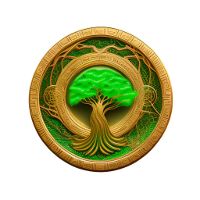 What is GreenBit Coin?
The crypto market is flooded with meaningless canine tokens and their offsprings that serve no purpose. We had a good run with tokens like SHIB pr Doge but since then all we saw was hyped up meaningless tokens of which more than half have rugged. Why rugged? Because they have nothing of substance to offer.
📣LET'S MAKE A REVOLUTION📣
GreenBit is a revolutionary crypto currency that will reward people for their sustainable efforts! Earn GreenBit tokens for simple day to day activities like recycling, driving electric, using public transport and many more!
🚀LP locked
🚀NO team tokens
🚀 Contract will be renounced after audit
🚀Low tax
🚀 Big plans for future
Bitcoin was regarded as a "scam" until it started making billionaires. Don't miss your opportunity to be a part of new Crypto wave.
Timeline
| | |
| --- | --- |
| Launching on | 03 Nov 2023 |
| Added | 13 Aug 2023 |