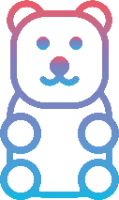 What is Gummy Bears?
Gummy Bears TV (Gummy Bears) solves the problem of data exploitation, high commission fees, and lack of privacy in the video and streaming industries by giving users control over their content and allowing them to sign up and interact on our blockchain-powered platform using only their public address while also benefiting from our low commission fees.
About Us: Gummy Bears is a decentralized peer-to-peer video sharing and streaming platform that allows users to share uncensored and secure content. Streamers, viewers, and token holders are all part of the community-driven ecosystem.
When users stream or watch videos on Gummy Bears Tv, they earn cryptocurrency including the utility token; GUMMYS.
Through Gummy Bears privacy measures, users have peace of mind knowing that they do not need to worry about their data being sold to third parties or a data bridge as they only need a public address to use the platform.
PROBLEM LACK OF FREEDOM: of expression is an important concern including users right No PRIVACY: companies store too much personal and sensitive data PAYMENT DELAY: companies take days to release payments to content creators COMMISSION: fees and hidden charges on other platforms are high
SOLUTION MAKE MONEY: When creating content or watching SAVE MONEY: No hidden charges or high commission fees BE FREE: Freedom of speech HAVE PRIVACY: No login with email or sensitive data ENJOY BLOCKCHAIN: Transactions are instant and transparent
Timeline
| | |
| --- | --- |
| Launched | 31 Dec 2021 |
| Added | 08 Dec 2021 |
| | | Launch | | Market Cap | Badges | Votes |
| --- | --- | --- | --- | --- | --- | --- |
| | | in 2 months | | | | |
| | | 1 day ago | | - | | |
| | | 4 months | | $189,602 | | |
| | | today | | | | |
| | | 4 days | | - | | |
| | | in 4 days | | | | |
| | | in 10 days | | - | | |
| | | in 2 days | | | | |
| | | in 2 days | | $16,268 | | |
| | | 3 years | | - | | |
| | | in 3 days | | | | |
| | | 12 days | | | | |
| | | in 2 days | | | | |
| | | 5 days | | - | | |
| | | 1 day ago | | | | |