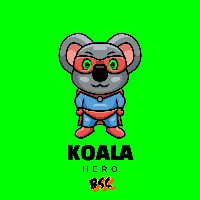 What is Koala Hero?
🚨 Koala Hero is a deflationary token designed for the BSC network.
Koala Hero owners will earn 2% Reflections🎁. 4% of each purchase and each sale is sent to the Buy-Back wallet.
6% on marketing which is important to us .
Our aim is to help children in difficulties around the world where we will succeed.
Timeline
| | |
| --- | --- |
| Launched | 27 Mar 2022 |
| Added | 06 Mar 2022 |
| | | Launch | | Market Cap | Badges | Votes |
| --- | --- | --- | --- | --- | --- | --- |
| | | in 2 months | | | | |
| | | 1 day ago | | | | |
| | | 7 months | | | | |
| | | 4 months | | $209,388 | | |
| | | 28 days | | | | |
| | | 4 days | | | | |
| | | today | | No Contract | | |
| | | 1 day ago | | $3,545 | | |
| | | in 8 days | | | | |
| | | 23 days | | - | | |
| | | in 2 days | | | | |
| | | in 1 month | | | | |
| | | 3 days | | $14,644 | | |
| | | in 1 day | | | | |
| | | in 3 months | | No Contract | | |
| | | in 4 months | | - | | |