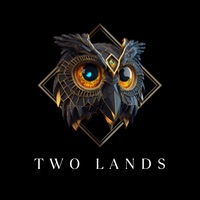 What is Two Lands?
Two Lands is helping to fund ancient archeological expeditions & research around the world, Two Lands, has partnered with non-profit, The Everdeen Initiative, renowned author, researcher, and award-winning filmmaker, Anyextee, as well as legendary recording artist, "The Godfather of Hip-Hop" Rakim, to sponsor a massive funding campaign. This collaboration will be executed with the intent of placing a cutting edge, non-invasive robot (built by the University of Santa Barbara) inside previously unexplored shafts within the Great Pyramid, that haven't seen the light of day in more than 4500 years!
Two Lands has a massive commercial plot within TCG World Metaverse that's currently under construction and will house Two Lands' Virtual Headquarters. Additionally, Two Lands' IP, including Games, a Digital Treasure Hunt, and an exclusive Secret Society will all be implemented throughout their expansive virtual world.
Two Lands will also be hosting the most consequential web3 infused, global treasure hunt, coming this summer. A one-of-a-kind, custom made Cryptex will be buried and holds a seed phrase that will unlock a wallet containing 1% of $LANDS token supply upon the solving of a 24 line cryptic riddle.
A pilot episode of a Two Lands docuseries has just finished production by Orange Street Films and co-produced by Sean Austin of Netflix and Discovery Plus to peel back the curtain exposing many of the raw and riveting challenges facing a web3 startup in these uncertain times. This in-depth experience will provide the most comprehensive doxxing of any core team in Crypto. It is first set to be released on Amazon video & Google Play, and then shopped to other major streaming networks. The official trailer has been released to the public.
Two Lands has partnered with both Chatham Brewery & The Vale Fox Distillery to create two new, unique cobranded products. Both a beer and a gin will hit menus, taprooms, and liquor stores all over the US in the coming months with partial proceeds going towards the Everdeen Foundation and it's Giza Robot Initiative. Vale fox only has one other co branded product currently with Jeffrey Dean Morgan.
Two P2E Games are set to be released on multiple platforms including the App Store, Google Play, Web and within TCG World Metaverse. First, "Pyramid Scheme", and Endless Runner currently in beta, then followed by Pharaohs of Aaru", a highly addictive trivia concept, in pre-production, featuring a digital rewards program with some of the most recognizable brands in the world including Amazon, Airbnb, Nike, Spotify and Uber.
-FULLY DOXXED TEAM
-5% BUY/SELL, NO TRANSFER TAX
-KYC/AUDIT
Celebs/KOLS onboarded:
Sean Austin (producer with shows on Netflix and Discovery+)
Zach Humphries
Austin Hilton
Rakim "Godfather of Hip Hop"
DJ Seip (5x MTV top 10 charts)
David Banks (Actor/Producer)
Anyextee (award winning filmmaker)
Partners:
Kryptonite Marketing
TCG World
Chatham Brewery
Vale Fox
Moonbound Consulting
Lulu Games
Raya Media
Orange St. Films
Conda Labs
DTC Group
Murtha Cullina Law firm
https://linktr.ee/twolandstoken
Timeline
| | |
| --- | --- |
| Launched | 26 Jul 2023 |
| Added | 19 Jul 2023 |