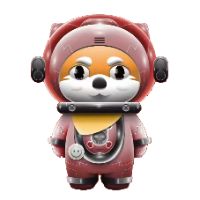 What is Mars Doge?
Mars Doge is a member of the dog family, but lives on Mars, and of course he occasionally goes to the moon to play! Mars Doge is a naughty baby, but a kind child. It is Mars Doge's wish to make the world without a stray dog. Mars Doge originated in Germany, known as the "Animal Paradise". It is a project initiated by members of Tierschutzverein München.
Mars Doge = Charity = Dividend = Scarcity = Mars
Mars Doge wants to create a digital "animal paradise" on Mars!
Timeline
| | |
| --- | --- |
| Launched | 12 Jun 2021 |
| Added | 16 Jul 2021 |
| | | Launch | | Market Cap | Badges | Votes |
| --- | --- | --- | --- | --- | --- | --- |
| | | 4 months | | $177,057 | | |
| | | 4 days | | | | |
| | | in 3 days | | | | |
| | | in 6 days | | | | |
| | | 7 days | | - | | |
| | | 23 days | | - | | |
| | | 28 days | | | | |
| | | in 1 day | | - | | |
| | | in 2 days | | - | | |
| | | 3 days | | | | |
| | | 24 days | | $69,288 | | |
| | | in 28 days | | - | | |
| | | 3 days | | - | | |
| | | 15 days | | - | | |