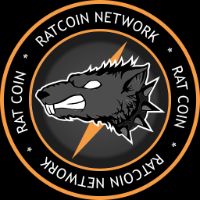 What is Ratcoin?
Introduction:
"The goal of the project is quite simple: deploy a fun coin that will ever infest your life."
Ratcoin is a cryptocurrency coin that was launched on November 10th 2018 over 3 Years ago. Ratcoin is a true cryptocurrency with its own blockchain using an open source script algorithm.
The crypto world has been flooded with thousands of cryptocurrency coins including tokens that are taking the place of cryptocurrency. The Ratcoin project is here to break away from the common cryptos and tokens. We are here as a team to show the crypto world that there is more to crypto than just buying and selling. Our primary objective is to deploy fun and ongoing projects to provide solid utility purposes to this crypto. As we develop projects for this crypto we will create common utility uses for our cryptocurrency that will replace many Fiat currencies.
Coin Specifications:
Name: RATCOIN
Ticker: RAT
Max Supply: 9,000,000,000 (9 Billion)
Block time: 3 Minutes
Algorithm: Scrypt POS / POW
Premine: 20% (1.80 Billion) made up of:
13.49% for the swap (1,214,430,975.76010)
4.26% for Development (383,228,755.00000)
2.25% Community Fund (202,340,269.23991)
Coinbase maturity: 30 blocks
Staking Maturity: 30 Blocks (~1.5 Hour)
Target spacing: 3 minutes
Target timespan: 1 block
Transaction confirmations: 30 blocks
Pow 0 coins per block till block 200k
rpcport=19764
The Value of The Ratcoin Project:
The foundation for our coin is our community. The more our community grows the more that new projects will reveal themselves. Our Ratcoin admin team works together with our community on a daily basis to find the best needs and uses for our cryptocurrency. As the old saying goes, two heads are better than one and a dozen are better than two and a whole rat community is strong in numbers. As our community gains strength all of our social administrators and developers work directly with the investors/community to question what they believe we should be including into the projects. This open discussion creates a stronger community but also creates new ideas that an individual team may overlook. Ratcoin has a strong social media presence including Facebook, Youtube, Reddit, Discord, Telegram, Instagram, Bitcointalk, etc. and the numbers show no sign of stopping. Currently Ratcoin has several new projects that will be unveiled soon and will deliver real-world utilities.
Ratcoin Solutions:
The same question is proposed to every cryptocurrency in a white paper. What do you plan to solve in the community? As developers we believe that the biggest issue with cryptocurrency whether it be a coin or a smart contract token is the use case behind the project. The Ratcoin team believes that we can deploy a true utility to our cryptocurrency. We believe our cryptocurrency can be used not only to buy and sell our own NFTs or for use in the gaming industry but to bring it to real world use. We believe we can create new projects that can collaborate with other cryptocurrency in trading pairs Eg: Rat/Doge, Rat/USDT, Rat/TRX, etc. which will stimulate the entire crypto community. New projects will attract new investors which will ultimately increase the number of Ratcoin trading pairs that will infest the entire community.
Timeline
| | |
| --- | --- |
| Launched | 10 Nov 2018 |
| Added | 12 Feb 2022 |
| | | Launch | | Market Cap | Badges | Votes |
| --- | --- | --- | --- | --- | --- | --- |
| | | in 1 day | | | | |
| | | 4 months | | $189,956 | | |
| | | 1 day ago | | | | |
| | | 26 days | | | | |
| | | 6 days | | - | | |
| | | in 2 days | | | | |
| | | in 8 days | | - | | |
| | | in 1 day | | | | |
| | | in 3 days | | - | | |
| | | in 5 days | | | | |
| | | 3 years | | - | | |
| | | 22 days | | $69,288 | | |
| | | 7 days | | - | | |
| | | today | | - | | |
| | | in 1 month | | - | | |