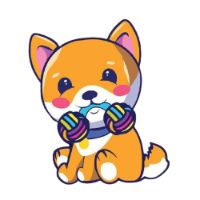 What is ToyDoge?
🐶 TOY DOGE is a charity-driven token that strives to help those who cannot help themselves! Putting smiles on the faces of those who are less fortunate and of course our token holders!
We're on a mission to donate 1m toy doge toys to 1m children by the end of 2021!
PRESALE will go live on September 13th at 3pm UTC on Pinksale. 150sc / 300hc. Min 0.1 BNB / Max 2 BNB We will launch on PancakeSwap shortly after. LP locked for 2 years!
Also launching on the Polygon and listing on Creampye Swap!
ToyDoge Merc is almost ready for sale and distribution. You will all be able to own your very own cute and cuddly toy doge!
Not just your average meme coin! At ToyDoge we strive to deliver the best that BSC has to offer!
🔥Farming
🔥Staking
🔥NFTs
🔥Android/IOS Game
🔥Cross Platform BSC/Polygon
🔥Merch
🔥& more
🔥Rugproof
🔥100% SAFU
🔥Anti-whale measures to prevent dumping
🔥Doxxed Team Live on Video Chat
🔥Internaional Marketing Plan
🔥Trademarked
🔆420,000,000,000,000 circulating supply
🔅10% Tax
🔅2% Redistribution to holders
🔅3% Marketing, Development, Charity
🔅58% Supply Burned
🔅5% To liquidity
🔅Big Manual Burns!
📢 Facebook : https://www.facebook.com/toydoge2021
Timeline
| | |
| --- | --- |
| Launched | 13 Sep 2021 |
| Added | 12 Sep 2021 |
| | | Launch | | Market Cap | Badges | Votes |
| --- | --- | --- | --- | --- | --- | --- |
| | | in 2 months | | | | |
| | | 2 days | | - | | |
| | | 4 months | | $193,151 | | |
| | | 1 day ago | | | | |
| | | 25 days | | | | |
| | | 5 days | | - | | |
| | | in 3 days | | | | |
| | | in 9 days | | - | | |
| | | in 1 day | | | | |
| | | 3 years | | - | | |
| | | 1 day ago | | | | |
| | | 21 days | | $69,288 | | |
| | | 6 days | | - | | |
| | | 2 days | | | | |